5 Day Itinerary for LA and Palm Springs
LA and Palm Springs are two cities that you should spend a lot more time than just five days, but sometimes that's all you have! I'm here to tell you that even though may not see and do everything on your list, you can still fit in a whole lot. Jeremy and I are lucky that we have family in both locations, so we have fantastic tour guides in California. We were lucky that our family tailored our visit to both of our favorite things: eating and spending time outdoors. Here were the highlights from our visit and the perfect five-day itinerary!
Check Out Venice Canals and Venice Beach
The Venice Canals is a beautiful neighborhood tucked away in the Venice neighborhood of LA with some spectacular homes right on a network of canals. The neighborhood, designed in 1905 by developer Abbot Kinney as part of his Venice of America plan, was built to emulate the canals of Venice, Italy. There are small bridges and pathways connecting the homes and many houses had yards and porches with beautiful landscaping and unique architecture.
Not far from the canals is Venice Beach in all of its touristy and gritty glory with the boardwalk lined with beach t-shirt shops, tattoo parlors and weed dispensaries. Home of the original Muscle Beach, the actual beach itself is pretty clean and has lots of room for lounging and tanning.
EAT the LA Food Scene
After I compiled this list of all the places we ate at during our quick 3 days in LA, it made a lot more sense where those extra pounds came from once we were back home. LA has one of the best food scenes in the country and we were not disappointed by one meal. They also have one of the biggest dessert scenes we've seen outside of Asia with ice cream, cookies and bread pudding galore. Below is the list of where we ate while in the City of Angels.
Gjelina – A trendy restaurant in the Venice neighborhood with brunch options made from local ingredients, healthy but incredibly tasty
Rosaline – A restaurant with an interior design to die for along with an amazing passion fruit pavlova dessert and super creative modern Peruvian cuisine
Nate 'N Als – One of LA's best Jewish Deli's with great omelets, corned beef and hash and fried Matza
The Huntley Hotel – A beautiful hotel in Santa Monica with rooftop views of the beach and surrounding mountains
Tofuya – Korean restaurant in the Sawtell Area with tofu stew, sizzling rice dolsot bipimbop and Korean dumplings
Honeymee – Honey-centric dessert place with local whole milk ice cream drizzled with honey
B Sweet – Dessert bar with a variety of different bread pudding options including a glazed donut version topped with whipped cream
Diddy Reise – Famous cookie outlet with a huge variety of freshly-baked cookies for 25 cents each
In and Out Burger – The West Coast's most famous fast food burger place known for their deliciously fatty "animal-style" options
Explore the Sawtell Area
Jeremy's sister and her husband live near this cool area of LA, called Sawtell that is exploding with multiple types of Asian cuisine. This is where we found a lot of the dessert bars listed above. They also have an awesome dollar store with a variety of American and Asian-inspired gifts and trinkets. This is a neighborhood that we could have spent the whole weekend in just eating at the various restaurant establishments.
See a Comedy Show
Like New York, there's a great comedy scene in LA, just be willing to drive! We decided to catch a show at The Comedy Store with a line-up of a dozen or so comics with roast master, Jeff Ross as the headliner. The show was really affordable at around $30 a person and we were about to get our monies worth with the surprise guest. Soon after Jeff Ross took the stage he announced that he'd brought a friend with him that evening and none other than John Mayer popped up at a nearby piano to riff with Jeff during his set. A small club with an audience of around 50, we were up close and personal with John and all of the comics as they just hung around the downstairs area before and after their set. I'm pretty sure as I waited for the bathroom I spent an awkward 5 minutes staring at John.
Hike in Griffith Park
The weather was pretty fantastic the entire time we were in California and in order to sweat off some of the calories we'd been consuming we decided to spend a morning hiking through Griffith Park up to see the Hollywood Sign. The hike we did was easy enough for all age groups, but we definitely worked up a sweat. It was nice to disconnect from the city for a few hours and spend time in nature and just chatting with our siblings. The park itself has 53 miles of trails and you can certainly spend the whole weekend exploring the area.
EAT Palm Springs
I wouldn't classify my parents as foodies, they'd rather grab eggs and bacon at a diner than wait for a table at a trendy brunch spot, but they took us to some fantastic restaurants in Palm Springs during our visit. We started with a great lunch of locally made tamales they picked up with homemade guacamole out on their patio. Below is a selection of our favorite places we ate:
Tropicale – Restaurant with a menu for everyone with creative seafood, meat and vegetarian options
Pomme Frite – This restaurant has a dozen different kinds of mussels and frites options along with a variety of other French dishes
Pinocchio in the Desert – The most potent Bloody Mary's we've come across outside of Wisconsin with a huge breakfast spread and all-day food options
San Jacinto State Park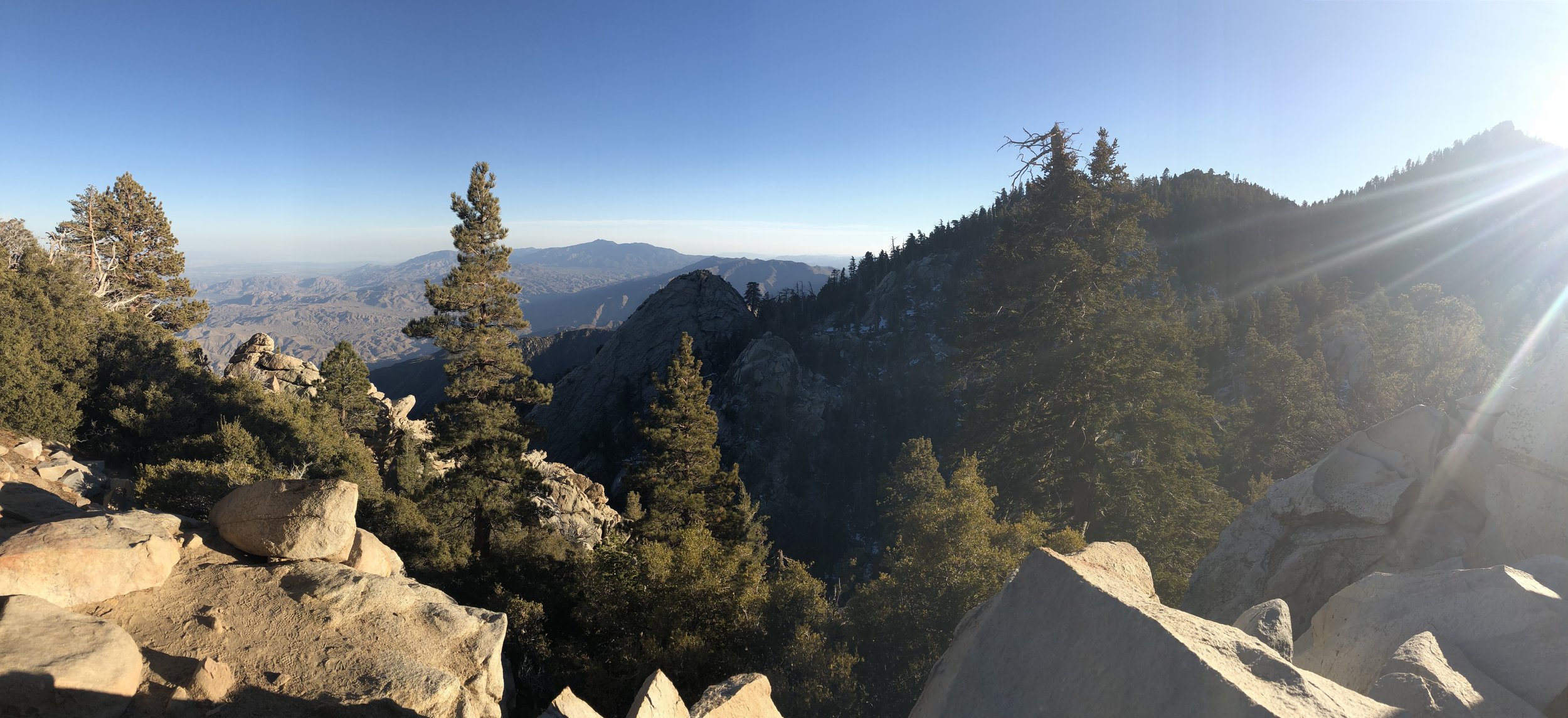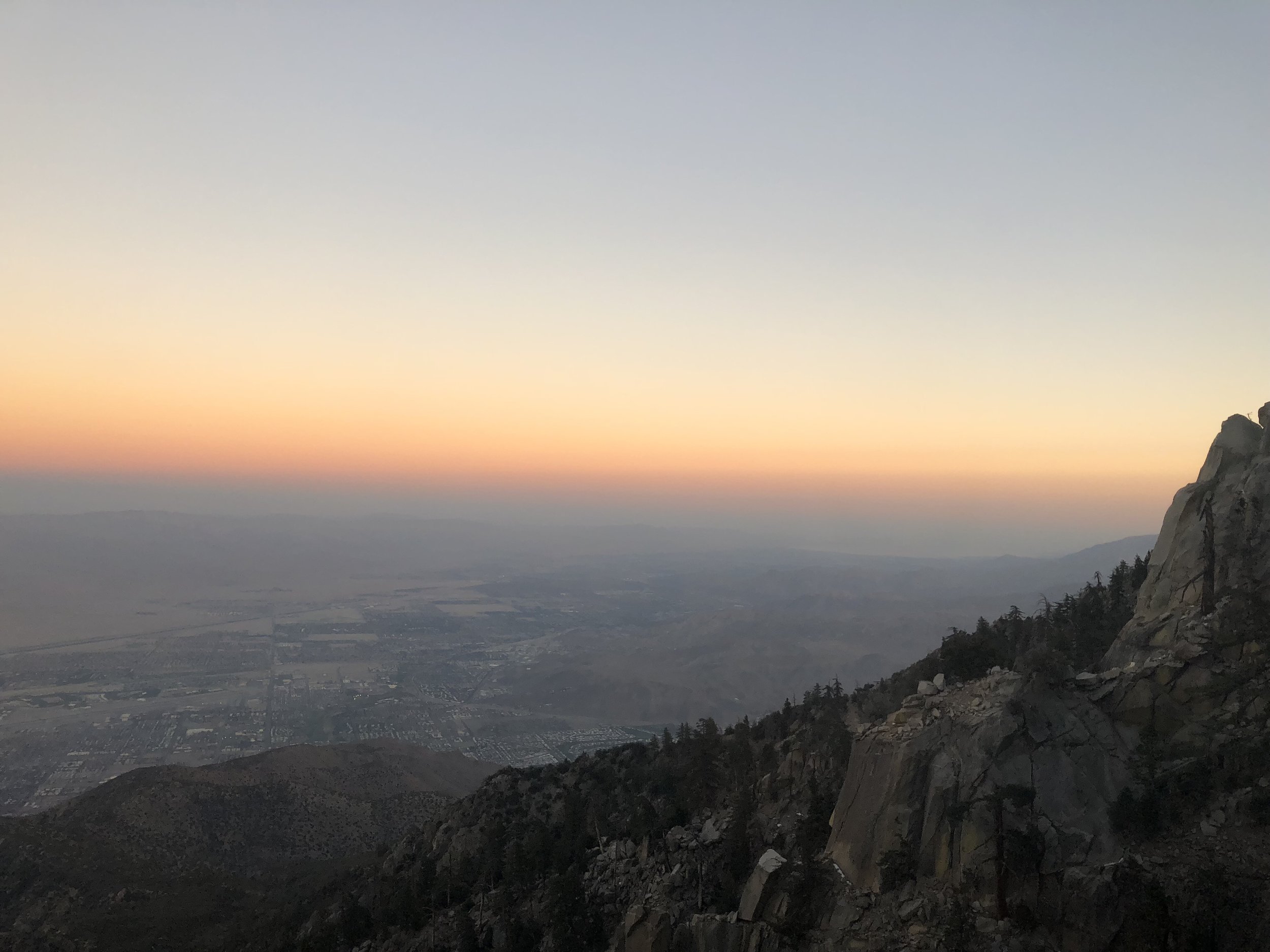 A short drive from downtown Palm Springs is San Jacinto State Park and the aerial tramway where you can spend a few hours or a few days exploring the beautiful wilderness area. The truly adventurous ones do the full hike from the bottom of the mountain up to the state park which takes almost a full day to complete! We opted for the easier and scenic option of taking the tram up and hiking around the top of the mountain. One of the largest rotating trams in the world with 360-views of the area, it climbs 8,000 feet in just 20 minutes!
There is a gentle hike/walk at the top of the tramway with a few different scenic views. The trail here is very well-marked and many tourists do the small loop instead of venturing further into the wilderness for a backpacking experience. While we would have loved to camp up here, we only had time for the small loop, but it still had some beautiful views and serene parts as you walked through the forest.
Joshua Tree National Park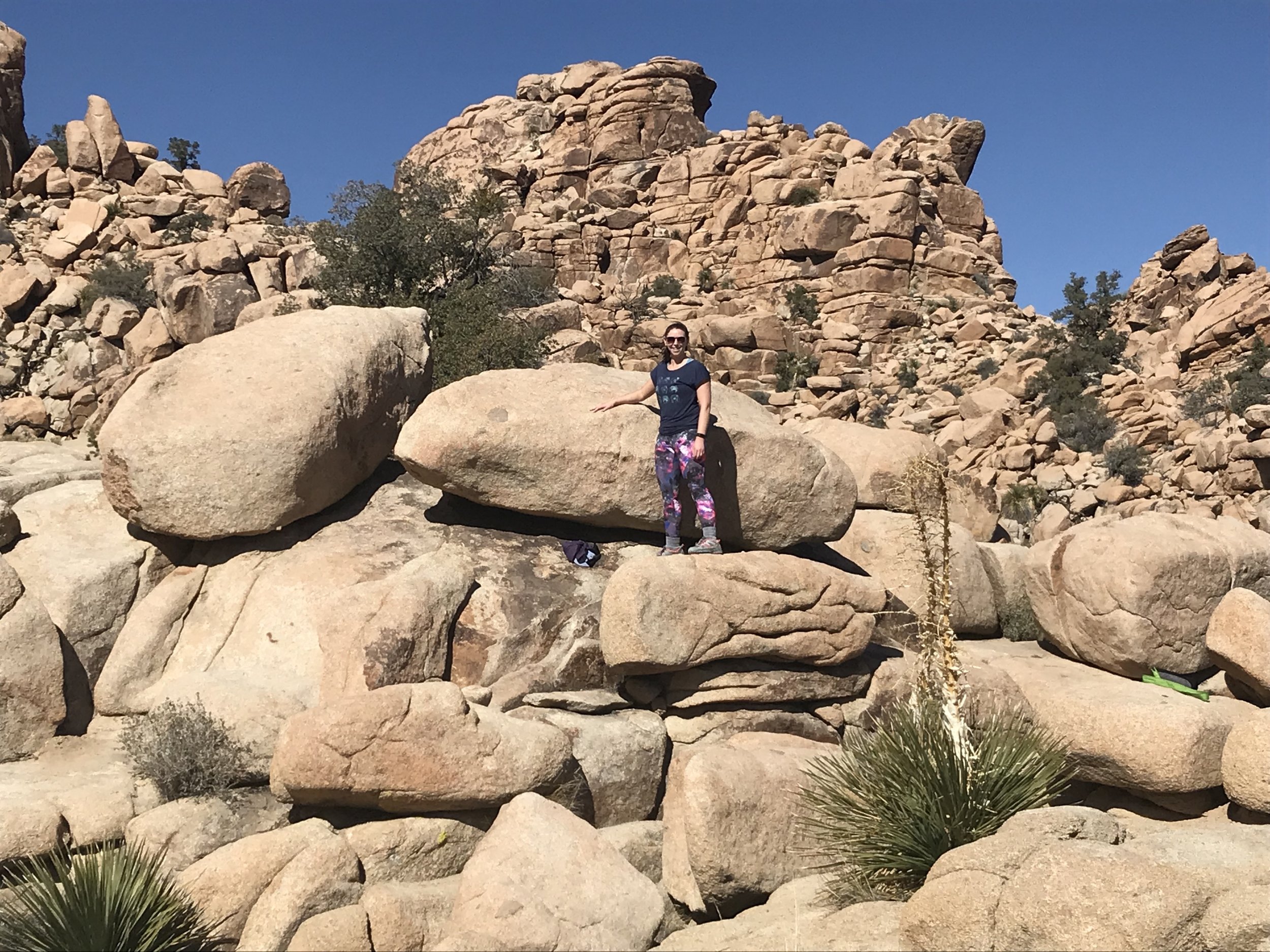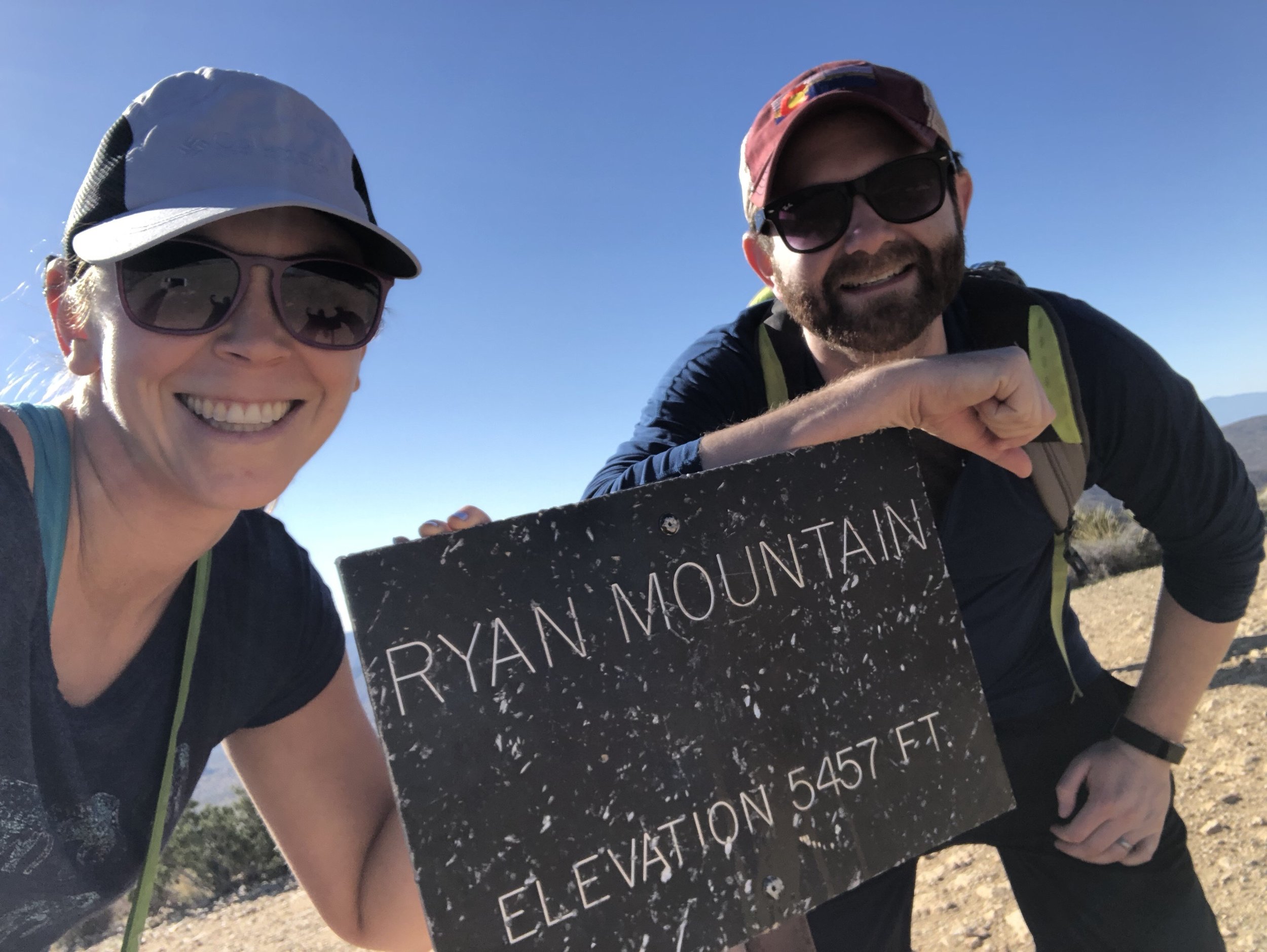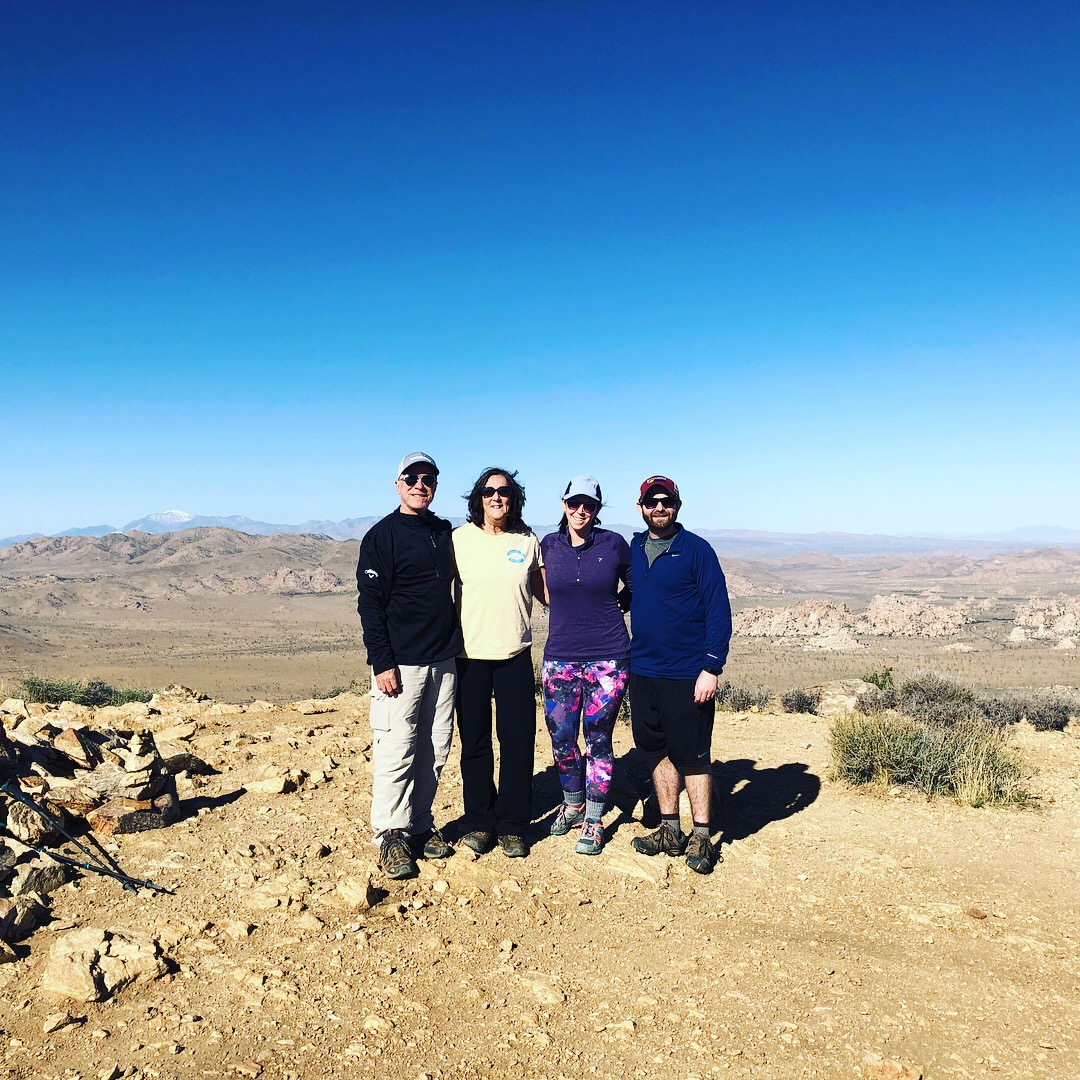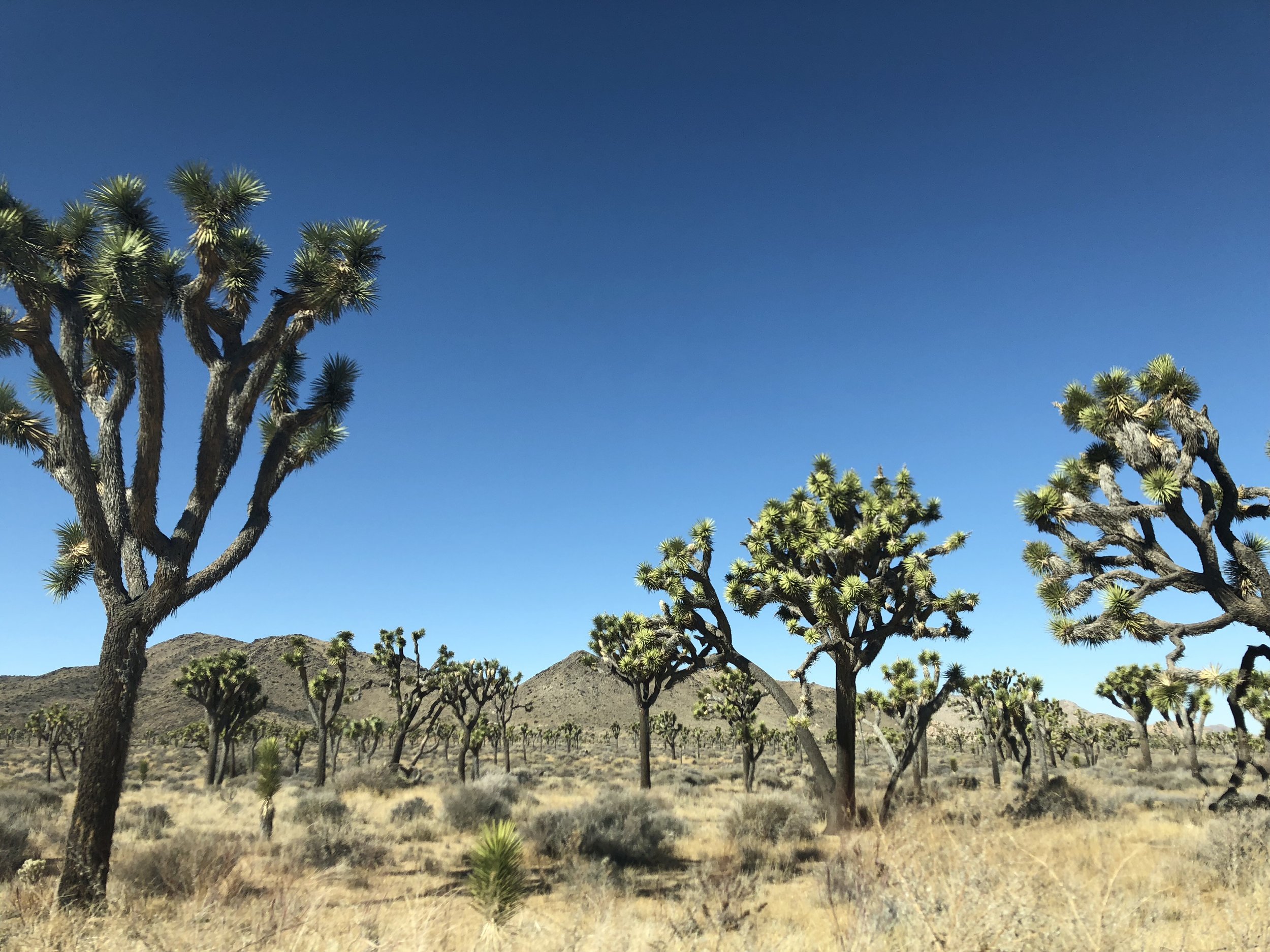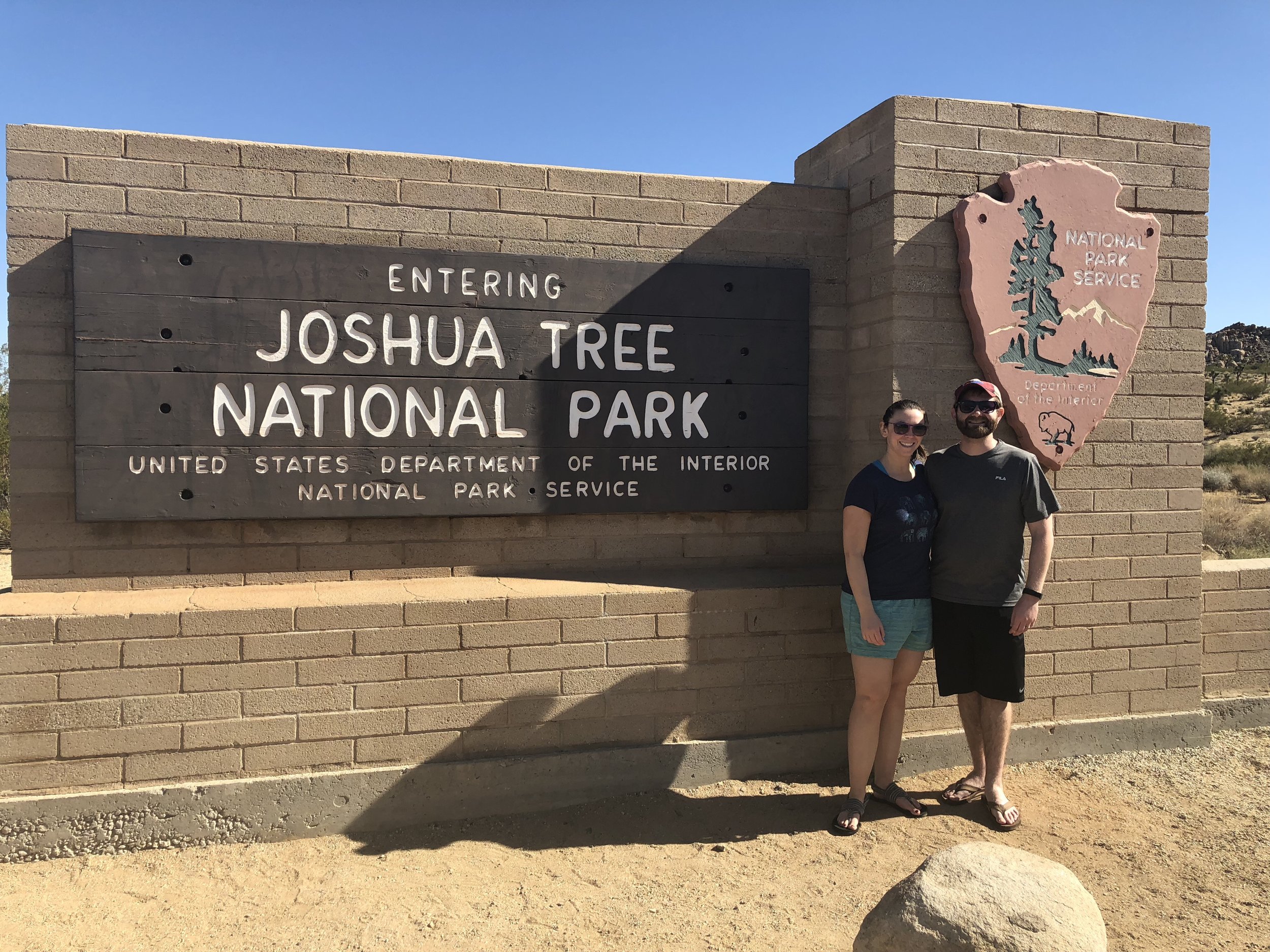 We couldn't visit Palm Springs without making a trip out to Joshua Tree National Park. This park has been on our bucket list for a few years now and we were super excited to explore its unique rock structures, trails and of course the famous Joshua trees themselves. My parents have been out to Joshua Tree a couple of times and suggested two hikes for us to do while we were there. One was an elevation-style hike up a small mountain called Ryan Mountain and one was more of a scenic walk called, Hidden Valley.
As the dessert just gets hotter throughout the day, we decided to start with Ryan Mountain as we'd be climbing for a while. The trail itself wasn't too steep and after several days of eating in LA it was just what we needed. Summitting the 5,456 peak took us about an hour and a half. Afterwards we drove over to the Hidden Valley track, making a few stops along the way to watch some climbers and just walk around some cool spots. We spent about an hour exploring the Hidden Valley area which had some really awesome rock structures and a variety of trees.
Palm Springs Architecture
One of my parent's favorite things about Palm Springs is the mid-century modern architecture and they were excited to show us around a few neighborhoods with some famous homes. Palm Springs has the largest concentration of mid-century modern architecture in the world and it makes the city very unique. The sleek, one-story homes often with glass, clean lines and beautiful indoor/outdoor spaces really embrace the dessert environment.
The neighborhood where my parents stay when they visit has a lot of these homes, but they wanted to take us to a neighborhood with a lot of celebrity owners. I think they were hoping that by lingering around some of the houses, an owner or two would let us peek in, as that's happened to them several times in the past. People in Palm Springs seem to love to show off their unique houses! Even though we didn't end up getting a glimpse inside a home, there were several mid-century modern hotels we could stroll in and be a quick voyeur.
Enjoy the Sun
Of course, part of the reason people love Palm Springs is the sun! It is HOT here most of the year but going in winter offers weather for both exploring and laying by the pool. Most homes in Palm Springs either have their own pool or the neighborhood complex has a shared one. Some of the hotels we popped into even had multiple ones with really unique layouts. My parents complex had a shared pool, but we were the only ones there so got to enjoy it all to ourselves!