Songkran in Samui
When we started planning the Thailand portion of our trip there were a few things I knew we didn't want to miss and Songkran was one of them. Songkran is the Thai New Year and also the biggest water party in the world! This year it also happened to fall on my birthday, April 13th. In some parts of Thailand it's celebrated for almost a week, which in theory seems awesome but after a day of just being soaking wet we were glad we chose to celebrate in Ko Samui where the water throwing lasted for just one day. The iconic pouring and throwing of water represents purification and the washing away of one's sins and bad luck. It's also a really good way to cool off in April, the hottest month of the year in Thailand.
After getting advice from some friends who visited last year during the same time, we settled on Lamai Beach on Ko Samui, a Thai island on the Gulf of Thailand side. Thailand actually has a lot of islands, but there are two main areas where tourists tend to visit, the islands of Ko Tao, Ko Phangan, and Ko Samui on the Gulf of Thailand side and Phuket, Ko Phi Phi and Ko Lanta on the Andaman Sea side. We flew from Bangkok to Koh Samui to spend four days there before heading to Ko Phangan for a week.
Ko Samui is a fairly large and developed island, and it has a well-paved road ringing around the entire island which makes it easy to get from beach to beach. While we stayed on Lamai beach, a lot of the big Songkran celebration took place on Chaweng beach which we easily could get to by moped. After we arrived we meandered around the Lamai village and beach area and found a great little side street with a lot of local Thai restaurants that were a bit more reasonably priced than the touristy ones right on the beach. We also decided to splurge ($26/night wohoo!) for my birthday and for the first time stayed in an actual hotel with the sweetest owner ever. If you're ever in Lamai beach, check out Bonny Hotel! That evening a bunch of little street food stalls popped up in the center of town and we ate some of the best pad thai we've had so far.
The next morning we decided to rent a moped so we could check out some of the storied waterfalls on the island. Ko Samui is a pretty hilly island, especially if you head up into the jungle and mountains for the waterfalls;we learned pretty quickly that we needed a more powerfulmoped if we expected to make it up with the two of us on it. We made it to the first waterfall we planned on seeing, Namung #2, and since we went early on in the day it was pretty secluded and it was just us and one other couple for a while splashing around in the beautiful pool at the bottom of the falls.
So after a little exploration and a lot of getting off the bike and walking up steep hills, we decided to return to town and exchange it for a bigger bike and grab some lunch before continuing on our journey. After lunch we visited one dud of a waterfall, since it's the dry season right now there wasn't any water in it, let alone a pool to swim in. Then we headed up into the jungly mountains to visit the Secret Buddha Garden, a private sculpture park atop Pom Mountain. The garden, also known as Tarnim Magic Garden, features many statues of Buddha and other aspects of Thai Buddhism, and also of birds and snakes and other animals. It's literally in the middle of nowhere surrounded by jungle and the drive up was really gorgeous.
That evening we kicked off my birthday celebrations and Songkran by purchasing a water gun and drinking way too many passion fruit mojitos. The next morning Jeremy had to practically drag me out of bed and revive me with McDonald's. After a McChicken for me and a cheeseburger for him, alongsome good old American french fries, we strapped on our helmets and hit the road with our water gun for the Songkran celebrations on Chaweng beach.
We made many stops along the way to get powder and water thrown on us and celebrate the Thai New Year with locals and tourists alike. I swear that everyone we met had a smile on their face and was in a great mood! In my opinion the Thai New Year was much better than any New Year's party I have ever attended in the states. I'd gladly choose swim suits and tank tops over having to dress up (and bundle up) any day!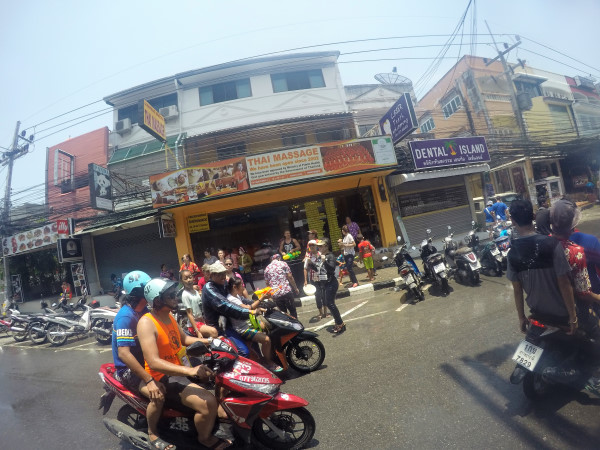 After celebrating out in the streets we wandered into a really nice resort on Chaweng Beach where we proceeded to take a wonderful afternoon nap and use their really nice pool and facilities. Feeling refreshed after our luxury hotel stop we hopped back on the moped to head back to Lamai to join the celebration there for the rest of the evening. On the way back we stopped at a beautiful lookout point in between Chaweng and Lamai and had the best roti pancake we've had so far on the trip… banana, coconut, caramel and condensed milk; it was life changing!
That evening we decided to treat ourselves to a seafood bbq dinner for my birthday, which actually ended up being not so great. But the evening got better when Jeremy suggested we try out this pop-up bar he found on TripAdvisor as the number one cocktails in Lamai called "Bear Cocktails." Bear is actually the name of the women who runs the stand, and after spending an evening chatting with her and other patrons we could see why she was number one. Her passion for delicious drinks and bringing travelers together was really infectious and we promised we'd be back again the next night.
The next morning before we had to return the moped we made one more stop at the Hin Ta and Hin Yai or Grandmother and Grandfather rocks that look respectively like male and female private parts. Being the mature adults that we are, they really made us giggle and I took several pictures.
On the way back to return the moped we got a little bit lost and stumbled upon an awesome local food market. They were selling everything from fish and pig heads, to fried chicken and iced coffee. We settled upon eating at a local restaurant in the market and had two not so great breakfast items; although you never know if you'll like something until you try it! We spent the day lounging at the beach, recovering from Songkran and after a few games of Connect Four and 50 baht cocktails we headed to a TripAdvisor recommended pizza place near our hotel and we weren't disappointed. This is what I should have had for my birthday dinner I thought! Of course we had to head back to Bear's for a nightcap and actually ended up meeting two other couples, one from Turkey and the other from the UK who we had a great time exchanging travel stories with until we all decided to call it a night.
The next day we were heading out for our next island in the Gulf of Thailand, Ko Phangan where we'd be hitting up our next bucket list item in Thailand, the monthly Full Moon Party!